ARTICLE LANGUAGE AND TRANSLATIONS
TAHITI
Hitchhikers @ Fataua
Tuesday 9 June 2009 by legendary_totoro
The valley of Fataua goes deep into the land and is probably one of the few must-see which condition hasn't really deteriorated during the years. The hike features dark and woody forest, waterfall sight and natural fresh water pool.
I haven't been there for 10 years and it was a pleasure to go back there. The week was a busy one and fresh air and nature were exactly what I've been looking for. Without more delays, here are the thumb-ups for this trekking trip.
The Entrance
You need to ask an authorization form in order to be able to get there. Please be sure to ask one at the town hall of Papeete beforehand.
For the equipment, I'd recommend some shoes here. I myself didn't use some and went with my tongs because I'm really used to have them anywhere I go, but there are small rocks and the path is sometimes muddy up there. If you're no athlete, running shoes would definitely be a must have. Also, be sure to have enough water (and food if you intend to stay at the pool summit) in your bag.
There's a long 20-30 minutes straight walk in which you can start feeling the nature around you. Next to the road is flowing down a little stream and it's really calming. The few birds around are quiet and their silence announces the hardships ahead.
At the end of the road there's a split path and you're facing 2 options :

keep going straight and you'll end up at the bottom of the waterfall

turn left and climb the mountain to end up at the top of the waterfall.
For some reason, I've always turned left there so I cannot say how the straight path is. But, as far as I'm concerned a little sweating means nothing to me =P.
That day, there were 3 ladies going up with me so I let them choose and wouldn't have felt disappointed to go straight. After a little thinking they decided we'd go up.
You need to cross the little wood bridge to start the ascension. Are you ready for 2 hours of climbing in the middle of the jungle ? If you're not, you can still take a little break here before going up because there won't be too many occasions to have breaks even though the path is pretty linear up there.
If you are decided, then let's go !
The Cliff
The path up there is pretty clear, you just need to follow the serpenting road. I don't think you'd need a guide here, though some local tours are organized with one. I guess you'd need one if you want to know the names of the local plants, trees and have a little history about the place but that's about the only interest I can see in have a guide.
I myself didn't feel it was very hard to go up but one could say the early steps are a bit hard if you're not in good shape. After a couple of minutes, you'll get accustomed anyway so just take your time, and watch your steps.
You won't be seeing much sun here as the trees are pretty dense so don't be afraid of sun burns. If necessary there are a few open places where you can catch your breath.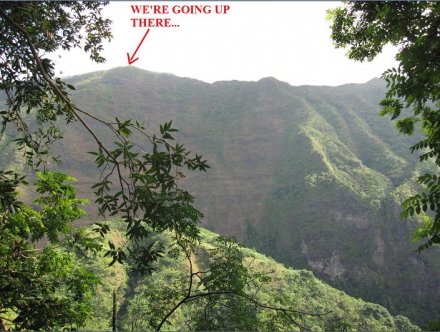 Go to the next page to go further up !
Home page
|
Contact
|
Site Map
|
Private area
|
Statistics
|
visits: 25857
Site created with SPIP 1.9.2c + ALTERNATIVES